Holy Joy

Public art project.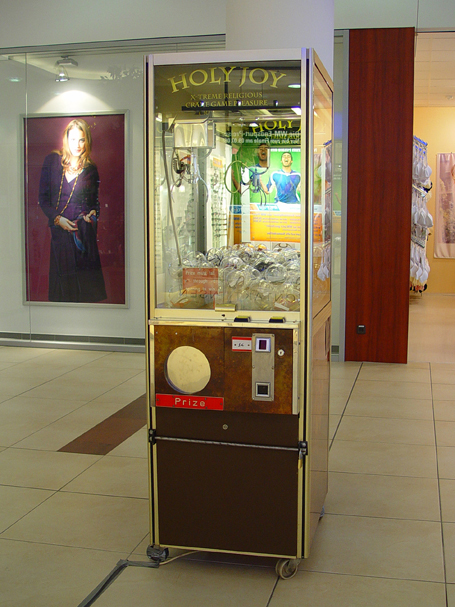 "Holy Joy Crane Game Machine" Installation view, 20 - 30 June ´06, Atrium Shopping Centre, Weimar, Germany.

The project "Holy Joy" consists of two automated game machines: the "Holy Joy Crane Game Machine" and the "Holy Joy X-treme Pinball Pleasure"; and criticises current social political developments and the comeback of religion as ideology appearing as a new wave of fundamentalism; and questions the role of capitalism as new religion.

The "Crane Game Machine" is an automat, which the public can activate in order to "win" various objects. The upper side of this machine is a glass case, in which these objects (usually teddy-bears, dolls, anti-stress balls, key rings etc.) are being offered. A mechanical crane is installed on top of the glass case, so that one can operate the crane by inserting a coin, using a joystick and trying to catch the desirable object. The functionality of the crane is designed for imprecise results.
"Holy Joy Crane Game Machine" Installation view, detail of the objects.

The usual, commonly offered objects are replaced with ones coming from, or relating to different religions and some of their sects and streams such as Buddhism, Christianity (Catholic, Greek and Russian Orthodox), Hinduism, Islam, Judaism (and a Jewish Messianic Stream), and Taoism; which were found and collected in different countries such as Austria, Brazil, Bulgaria, Germany, Greece, Israel, Paraguay and Turkey. Some of these objects, such as candles, prayer beads and holy water are used to conduct rituals, others are religious souvenirs such as magnets and miniatures and some objects combine religious practice with every day life functions such as key rings, bracelets, soap etc.
"Holy Joy X-treme Pinball Pleasure" screen shot.


The "Holy Joy X-treme Pinball Pleasure" is a computer game modification of the "Pure Pinball 2.0 Redux" 3d pinball simulation originally released by Iridon Interactive in February 2005. The game can be played on any PC computer. The menu of the game has been redesigned, and one of the three originally offered tables is to be played. Modified as well, are the graphics (textures) and the sounds of the game. "Holy Joy X-treme Pinball Pleasure" is the first pinball table known to use the theme of religion. The player is challenged to flip / fight against today's main religions, his main goal is to collect as many credits as possible - in order to become God him self. The design of the back-glass and of the game field is based on illustrations related to religion, symbols of holiness, icons and architectural elements. The lights of the game field display words, which are coming from the religious terminology. Audio samples taken from prays and religious music are to be heard each time the ball hits the specified sensors, and female vocals have been recorded to inform and direct the player. The spoken instructions used are also adapted to the religious content of the table.

>> Nikos Arvanitis: Holy Joy, Master Thesis, SS 2006, MFA "Public Art And New Artistic Strategies, Bauhaus University Weimar, Germany. (.pdf format)
"Holy Joy X-treme Pinball Pleasure" game controler, 2006.

"Holy Joy Crane Game Machine", installation view, "Protaseis", group show curated by Elpida Karaba, Anne Laure Oberson and Sotirios Mpahtetzis, Kodra ´06 Visual Arts Vestival, Thessaloniki, 2006.
"Holy Joy X-treme Pinball Pleasure" installation view, "What Remains Is Future", group exhibition curated by Nadia Argyropoulou, Old Arsakeion School, Patra European Capital of Culture 2006.
Close Window